Who hasn't ever dreamt of winning the lottery? I think most of us have and I'm positive that we have all imagined what our lives would be like if we did win. The typical things a person would do with their money would be to buy a nice car, an oversized house, a plane, buy Chanel everything and give a part of their fortune to a charity.  But how many people would give that winning lottery ticket to a stranger? Not to many I'm sure.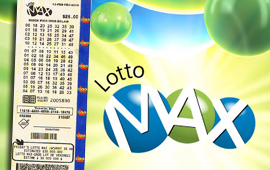 Can you imagine what kind of happiness you could offer a person by giving them a whole new lifestyle? What if you could do that without giving away a winning lottery ticket? Well, do I have news for you! The power to improve a person's life is always within reach because you have all the necessary means to do so.
How? It's quite easy actually.  It's pretty self-explanatory once you read this quote (one of my all-time favourites).
"Too often we underestimate the power of a touch, a smile, a kind word, a listening ear, an honest compliment, or the smallest act of caring, all of which have the potential to turn a life around." Leo Buscaglia
If we could make the effort to execute these simple acts, we could easily enrich the lives of others, everyday!  And what's even better is that it's a win-win situation! The sender and the recipient of these meaningful and genuine gestures will both feel happier which will result in a great snowball effect! Their happiness will be passed on to everyone else they encounter.  So give the gift of the figurative lottery ticket, because you can affect more lives with the metaphorical kind than the real kind.
This video was made possible thanks to Aveda Institute  "Canada's Best Professional Hair and Beauty School".
You can check out the video at http://www.missteencanadablognetwork.com/video/look-good-do-good-feel-good-miss-teen-sudbury-world-2012-desiree-mathias/